This little honey is considerably smaller than the SoftMaster and the control panel is so simple that it is actually intuitive. Your employees will hardly need any training to use it. The machine comes standard with a refrigerated hopper and an air pump, although the pump just pumps air into the hopper, not the freeze chamber.
The geared motor is a benefit for a small machine because it puts less strain on the motor.
The usual single flavor is usually vanilla, which is decanted into a cup, where syrups and toppings can produce any flavor the customer wants.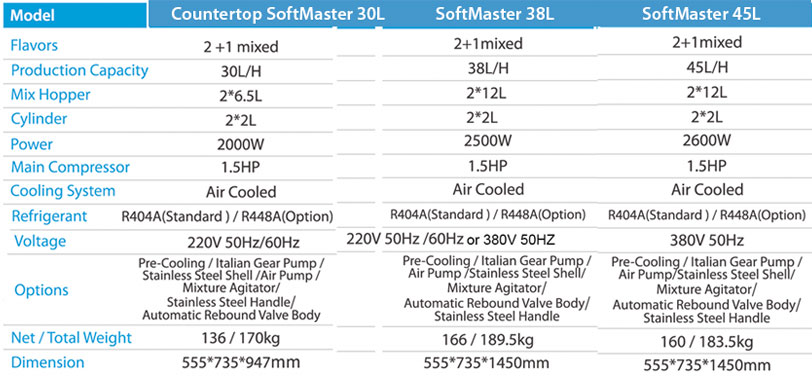 EXPRESS BASE SOFT SERVE
Our express base is similar in composition to that of our gelato, but it has less fat and more air, no artificial flavors.
Like all of our Express Bases, you just add the contents of the bag to 2L of just boiled water, stir, let it cool a bit and add to the hopper. Makes about 5L.( 75, sixty five gr cones) You can buy prepackaged flavors:
Chocolate, Vanilla, Strawberry, Yogurt or unflavored.
Many of our gelato pastes can be added to make any flavor you want. Easpresso flavored soft serve served over ice, is similar to Starbucks Frapachino.