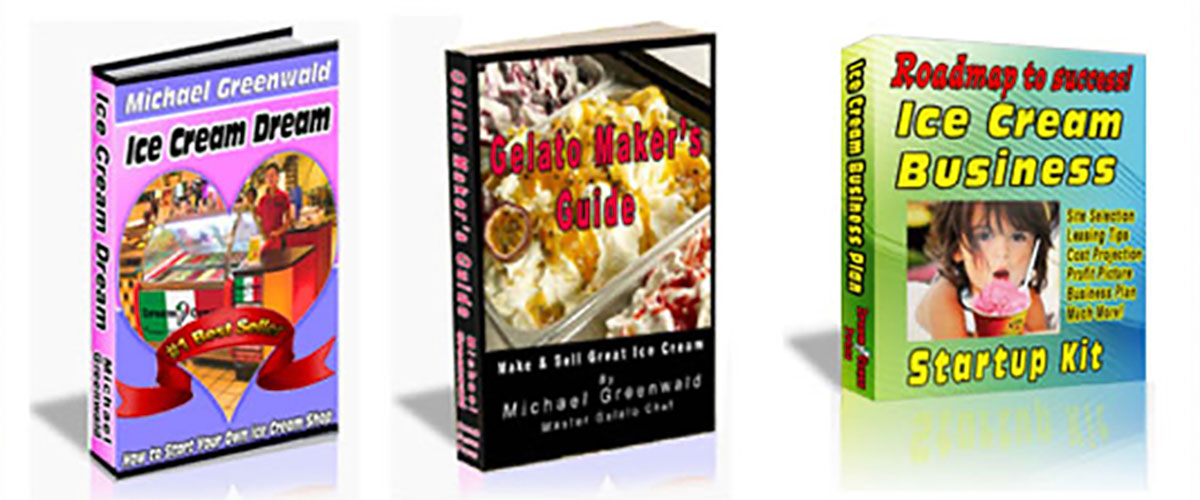 ICE CREAM DREAM
This 124 page book should be your first read, because it covers so many subjects few ever think about:
How to create a business plan
How to keep books and manage cash flow
How to Identify your customers
How to buy an existing ice cream business
How to organize a management plan
Should you buy an ice cream franchise?
Deciding financial structure & partners
What size shop to open
Interior and exterior design of your shop
Equipment and supplies you need
Avoid mistakes new entrepreneurs can make early-on, such as:
signing the wrong lease
not making a business plan
offering the wrong products
Save many times the price of this guide before you even open!
GELATO MAKER'S GUIDE
A master, authoritative text about the manufacture and sale of ice cream, with hundreds of photos, charts and graphs. Having spent twenty years making and selling gelato, developed all of the flavours and bases used in the industry and built ice cream factories all over the world, there aren't many people with more experience and expertise than Chef Michael.
But don't think Gelato Maker's Guide is just technical and dull. It has dozens of interesting stories and anecdotes plus chapters devoted to retail sales, marketing, selecting refrigeration equipment and getting your ice cream business up, running and MAKING MONEY! There are no other books on the market as complete as Gelato Maker's Guide!
ICE CREAM BUSINESS STARTUP KIT
Starting any business is risky and never easy. Mistakes made before startup often become apparent only later, can be expensive and hard to fix. We should know! I think we made them all! Most of all, the Startup Kit contains solid advice about what is REALLY important in any business— providing value, creating customer loyalty, developing attitudes and approaches that make your customers return again and again. The Startup Kit expands your knowledge of critical areas such as catering, throwing parties, business legal structure and leasing. Just the leasing chapter alone contains tips that could save you THOUSANDS OF DOLLARS.